Latest News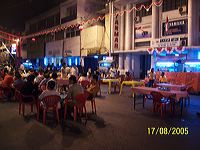 Kya-kya Kembang Jepun is in shooping center, Kembang Jepun Street that is the center of eastern Indonesia trade and economy. In the night, this place turns into center of local foods, national, even international. Local foods like lontong balap, empek-empek Palembang, Nasi Padang and also Chinese foods and European - American foods.

It presents the warm situation feeling of dinner recreation by providing unlimited food and beverage with the typical food / beverage of the local area ( cookery Tionghoa, the middle east cookery, Indonesia cookery) even invite the youngsters victuals; included of Snack, ( burger, pizza, etc) and traditional snack ( Surabaya and area).

To glorious this situation of night, it presents small entertainment amusement podium (light music) both traditional music and also modern music ( tionghoa, arab, jawa) even contemporary (poem etc) or which known by the public ( dangdut, gambus, etc) or which appreciative ( jazz etc), without bother the possibility of the performing of spiritual event (at night in religious days). It also provides promotion space of trade or hold an artistic exhibition or exhibition of trade / small-scale craft.

Trenggalek is situated on the South-West of Surabaya, the Capital city of East Java Province, and bordered by Tulungagung in the East, Indonesian Ocean in the South, Pacitan and Ponorogo in the West, Ponorogo and Tulungagung Regencies in the North.
Trenggalek covers 126.140 Ha, a part of it, is mountainous and the rest is lowland. And tourism places which is very exciting as the other objects.
Trenggalek regencies is enriched with various potential natural resources such as: maining material (marble, limestons, meteorit, orcher, piropillit, feldspar, caolin, trass, sandstons, etc). Agriculture product (rice, corn soja), plantation products (coffee, colve, cacao, coconut mangosteen, zalacca and durian), forest products (such as terpentine as row material for gondorukem / gum) and tourism places which so exciting as the other objects.